Vaporesso Luxe 2 Review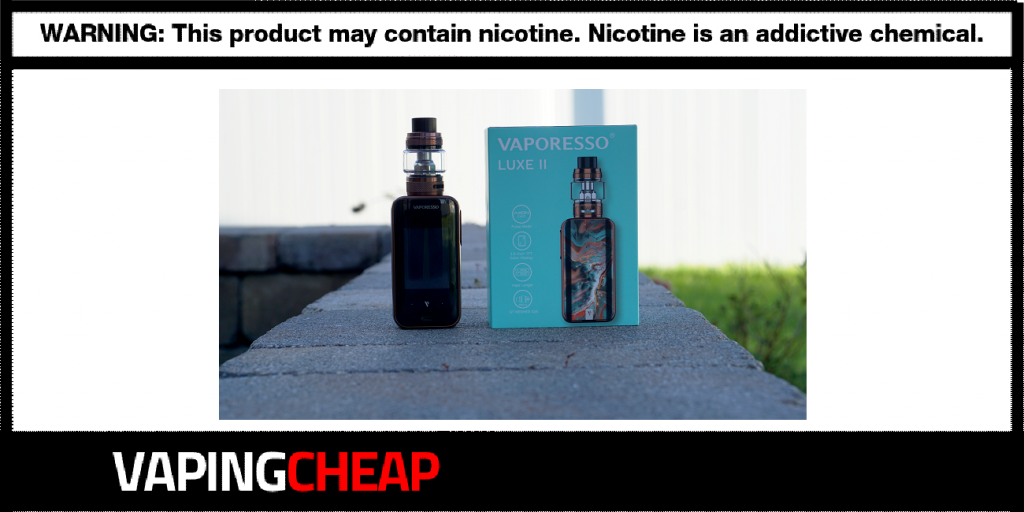 Higher wattage dual battery mods are something that every vaper will want in their own personal collection. But of course not all are equal regarding raw performance, looks and unique features. When Vaporesso originally launched their Luxe mod and kit, it filled the needs of many. It offered a one of a kind display screen that was gorgeous to look at and worked quite well. However, that was some time ago and the vaping market has evolved.
Finally, they're released their version 2 and while it looks rather similar in certain ways, it offers some upgrades that vapers will truly appreciate. In our Vaporesso Luxe 2 review, we're diving into the full 220w starter kit and letting you know whether it's actually worth forking out the cash to upgrade or hold on for the next one.
Vaporesso Luxe II 220w Kit Key Features
Luxe 2 First Impressions (Unboxing)
Taking a quick look at the packaging, the kit the Luxe II arrives in is rather similar to past products we've reviewed, including the Gen Nano , but that's not a bad thing. Their packaging is simple yet informative, showing there's no need to have a flashy outside to prove how good a product actually is. On the front, you've got some key features alongside an image of what color product you've got inside. Moving to the back, there're more specifications printed alongside a packaging list of what's inside the box. Simple and straight to the point!

Once you rip open the plastic and slide the box out, you're immediately met with both the Luxe 2 Mod and NRG-S Tank. Upon first glance on the Luxe II, I noticed right away there are no sharp edges. Taking it out of the packaging confirmed this. It's curved nicely along the entire body to not only provides a good grip, but it's comfortable as well. Last thing you want with a vape mod is a great exterior with edges that can cut you!
Gorgeous IML Panel
Once you turn over the Luxe II, you'll see the "stylish" (as Vaporesso mentions) IML panel. I totally agree with them on this one as it does look quite stylish and gives some much-needed flare. It almost has a resin look to it, but feels smooth to the touch. On this back panel, you'll notice at the bottom a small Vaporesso logo, but this is also where you can easily remove the panel. Taking it off reveals the battery tray.
As mentioned in the key features, this device is powered by two high drain 18650 batteries . There's no battery strap to assist you when taking out the batteries, but honestly it's not needed. When you insert two batteries inside the Vaporesso Luxe 2, they fit perfectly and come out with a light shake. The magnets on this mod are very strong. You've got no worries with the IML panel accidentally coming off, that's for sure.

Once you do install batteries and turn on the device, it does reveal the absolutely beautiful 2.0 TFT display screen. We'll cover more on this later, as they did implement some changes here. One last thing to mention, is the 510 connection. It's centered, which is definitely appreciated! This means larger atomizers including the NRG-S sits flush right in the center. This gives the Luxe 2 Starter Kit a clean and uniformed look.

Moving onto the included NRG-S Tank. We've seen before, specifically in our Gen S Review , but this is, yet again, not a bad thing. It's an improvement over their last variant for sure, but what's new this time around with the Luxe II is the color. The NRG-S in the Luxe II Kit I have comes in a matching bronze color. Personally, I haven't seen this color option before, but it looks great! Definitely one of a kind and overall, I was happy this was included in this full starter kit.

All in all, my first impressions of the Luxe II Kit were all positive. There wasn't anything to complain about and Vaporesso has always made a great first impression with their products. Whether it's a pod mod like their XROS or starter kit like this, they've done a wonderful job.
Vaporesso Luxe II Performance
Now, let's dig into the main course of our Vaporesso Luxe 2 review - the performance. While this device looks amazing, performance is always at the top of a vaper's mind.
Replacing the OMNI Board With The Axon Chip
One of the biggest improvements that Vaporesso made with the version 2 over the original Luxe is the Axon chipset. Originally, the Luxe came equipped with the OMNI which wasn't a bad chipset at all. However, the Axon board has taken this device to the next level, especially when looking at the overall performance. Chipsets are essentially the heart of the device and with the Luxe II featuring the Axon, it sports a wide variety of features.

Speaking of, there are plenty of options to go through with the Luxe II. You've got the amazing Pulse mode, STC (temperature control), Eco mode for battery efficiency and even a DIY mode allowing you to take full control of the vaping experience. Personally, I enjoy the DIY mode the most as I do like having the option to customize the vape to how I like it. However, for newcomers now entering high wattage vaping, the Luxe II is friendly enough to essentially guide you along the way based on the coil you've attached.

The overall functionality you get with the Luxe 2 and Axon chipset is simply amazing. The sheer amount of features, the raw power and the ease of use are what makes this chipset so good! While it does go up to 220w, I wouldn't recommend vaping that high of a wattage, especially on two 18650s. Vaping 200w and above on dual 18650s will simply drain your batteries incredibly quick. Regardless, the power is there if you need it!
User Friendly UI & Large TFT Display
Although the Axon chip and Luxe II has a wealthy amount of features you can use to vape with and customize the experience, is it really that easy to navigate? With no true navigation buttons and a complex screen, it may seem difficult at first sight. But that couldn't be further from the truth.
Vaporesso has taken the step to further simplify the process of using this type of device. While it's not as straightforward as traditional buttons, it does give you a much different experience that you're used to. This is, by no means, a bad thing. We've come across similar devices with touchscreen displays that were clunky and just not easy to get where you want to be. The opposite is true for the Luxe II.

Locking it is simple, three clicks of the firing button and the touch sensitive controls are no longer active. This is better than having a dedicated lock and unlock button, trust me. With that being said, carrying the Vaporesso Luxe II with you will not cause any stress of accidentally changing your mode or settings.

When the device is powered on, you'll see three "buttons" underneath the 2.0 inch TFT display. You've got two single dots and a Vaporesso icon. Pressing the icon three times will allow you to get into your settings. From there, you can select which setting you'd like to access using the two side buttons and use the icon button as your "select" or "enter" button.
This simplifies the entire process and makes the Luxe 2 very easy to use. There's haptic feedback as well, which allows you to feel when you've selected something. While on the main vaping screen, you can use the two smaller buttons to adjust your wattage or temperature. You won't need to go back into the actual settings to adjust power. One unique addition that Vaporesso has added is the "Luxe II" logo above the color screen. It's a simple yet appreciated!
As you'd expect with a device like this, it is somewhat of a fingerprint magnet. While it's not a con for me, I know some vapers will not like it and find themselves continuously wiping the display.
Ergonomics & Smooth Edges
As mentioned earlier, the Vaporesso Luxe II 220w Mod is designed with silky smooth edges along the entire body. There is not one single sharp edge to be found on this box mod and it shows how well Vaporesso has done when designing it.
The curves also attribute to the ergonomics. It's comfortable to hold and vape with even for extended vaping sessions. The large firing button is placed perfectly, so no matter which hand I held the Luxe II Kit with, it felt natural. Even down to the weight, it's nearly perfect. With two batteries installed, it's not too heavy and balanced very well.

The only downside to the exterior of the device is the inclusion of a micro-USB port. I wish they would've included a type-C port like they did with the Barr . Regardless, I do recommend using an external vape charger and only using the internal charging method in a pinch.
NRG-S Tank - The Ideal Match
We won't dive too deep into the performance of the NRG-S Tank as it did also come with their Gen S Kit . However, it is indeed the ideal match for the Luxe II. It's big, carries a massive amount of e-liquid and has coils to take advantage of the performance the Luxe 2 has to offer.

Being powered by the GT coil line by Vaporesso, it's definitely one of the better sub ohm tanks on the market. They're flavorful coils that can handle high amounts of wattage and actual keep up when chain vaping on them. Included in the packaging, you do get two coils total. Both are amazing!

One is the GT4 Meshed, coming in at 0.15 ohm and rated up to 75w. The other is the 0.18 ohm GT Meshed coil which is rated at 85w maximum. You can push these coils slightly higher, but I'd recommend sticking to the max rating set by Vaporesso for both. You'll get plenty of flavor and warmth, especially when closing down the airflow just a bit. Mix that with the huge 8ml e-liquid capacity and you've got yourself a full 220w starter kit that can last you through an entire work day.
Vaporesso Luxe 2 Kit Pros & Cons
Conclusion - A Worthy Successor
To conclude our Vaporesso Luxe 2 Review, it's definitely a worthy successor and upgrade to the original and even Luxe S starter kit . With its new user-friendly UI, improved TFT display screen, AXON chipset and ergonomics, it's better in every single way.
It has all the features you'd need as a vaper and the power to match. While battery life may be a concern due to its higher resolution 2.0 inch TFT color display, I was easily able to get through most of the day on a single set of batteries. Of course, this will primarily depend on how much you're vaping, I wouldn't worry about battery life on the Luxe II.

Regarding the cons, there were only two. The fingerprint issue is, as mentioned before, expected as it's just the nature of devices like this. Additionally, the inclusion of a micro-USB port rather than type-C is not a deal-breaker. We'd always recommend charging your batteries externally as it's just safer that way.

If you're afraid of using a device like this with touch sensitive elements, don't be. The Luxe II has all the improvements to make life easy with this type of vape. With that being said, we'd absolutely recommend the Vaporesso Luxe 2 Mod or 220w Kit. It'd be an excellent addition to your vape arsenal. If you're looking to grab one, check out our deal post to get yours at a discount.

Thanks for reading our Vaporesso Luxe 2 Review! We hoped you enjoyed it! Let us know in the comments below if you have any questions.