Vaporesso FORZ TX80 Review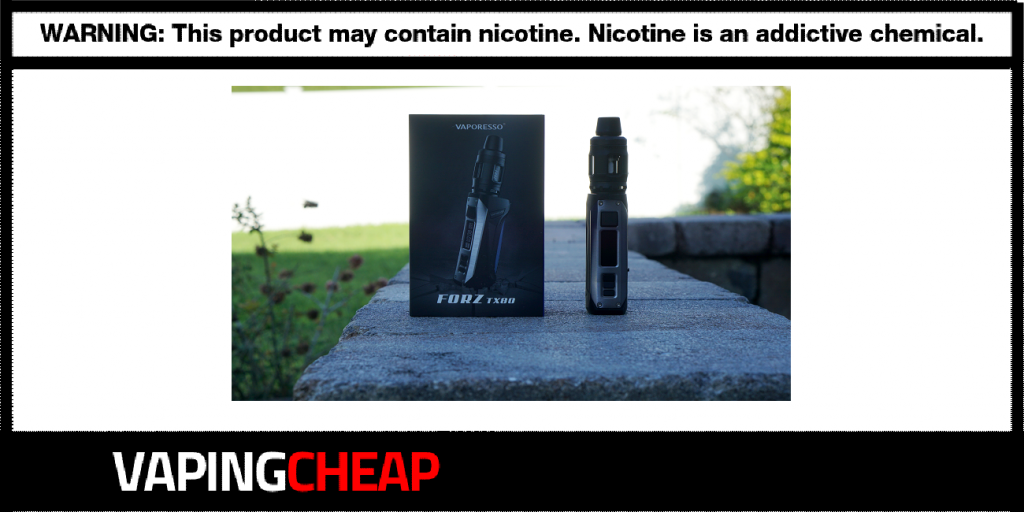 We've seen many devices be released from multiple brands that feature a rugged exterior that's built to take a beating. A mod that can be taken with you essentially anywhere and you're not scared whatsoever if you drop it or accidentally knock if off a table.
Now, Vaporesso has finally entered the scene with their new FORZ TX80. Designed to take your vaping experience to the next level not only with its tough exterior body, but with its feature-packed chipset.

So, will this new kid on the block take the crown that every brand is after? We'll let you know the answer to this question alongside everything you need to know in our in-depth Vaporesso FORZ TX80 Review.
Vaporesso FORZ TX80 Kit Features
Before jumping straight into our review, we'll kick this off with the main features you'll find with the Vaporesso FORZ TX80 Starter Kit, which includes both the FORZ TX80 Mod and FORZ Tank 25.
Vaporesso FORZ TX80 Unboxing (First Impressions)
Unboxing the FORZ TX80 Kit by Vaporesso is just as you'd expect and pretty much the same as when we reviewed the Luxe 2 . Simple packaging that looks great and shows you everything you need to know. To quickly cover what you can expect - the front showcases an image of the full kit, the sides feature branding and highlighted features and the back shows you what's included inside the box alongside some specifications.

Once you cut the plastic wrapping off and slide open the box, you're met with the FORZ TX80 right away. The tank and mod are separated inside, but let's cover the star of the show first, the FORZ TX80 mod. Its aesthetics remind me of something we'd see from the Aegis brand , but with some distinct differences.
Holding the mod in my hand for the first time, it immediately felt comfortable. The front brushed metal design is stunning and the back leather with the faint yet attractive "FORZ" branding is done well. The front sports the 0.69 inch OLED display screen and four buttons. There's the firing button up top and the wattage adjustments and menu button underneath the screen. Interestingly, there is a curve to them as well, which not only looks great, but adds another level of comfort. You won't have to search for the buttons, that's for sure.

On the side is where the USB-C port is located which you can use for 2A charging. While we'll always recommend using an external vape charger , we're glad the option is here with USB-C. On the bottom is where you'll find the battery cap and as expected, it's tightly sealed to keep the waterproof, dustproof and shockproof design. We'll cover more on this later.
Vaporesso has nailed the design yet again with the FORZ TX80 mod. It's not overly branded and has ergonomics that'll rival even the best of rugged devices, including the Aegis mods .
Matching Tank
Let's move onto the included FORZ Tank 25. We've got to admit, tanks that are included in kits barely get the love and attention the rightfully deserve. Here though, the tank is just as important as the mod. The primary reason is the matching rugged design, which gives you a full-blown kit that can take a beating. While the tank is sturdy, be sure not to drop this tank in water! Water can still travel into the tank through the airflow ports. However, that's unavoidable even with tough tanks like this as you do need some type of airflow to vape!

You'll rarely see a tank atomizer like this available to us vapers, especially in a starter kit. The tank features somewhat of a cage around the glass, so if you do drop it accidentally, it won't immediately break open. Now, this does have its own pros and cons, but we'll dive into that later on. If you do manage to somehow break the glass, there is an extra one in the packaging.
Not only does this kit introduce the Vaporesso FORZ Tank 25, but the new GTR mesh coils too. We've been huge fans of their original GTX mesh coils that were used in devices like their Target PM80 SE and GTX One Kit .
There's two GTR coils included in the box, a 0.15 ohm and a 0.4 ohm mesh coil. We were excited to dig into these new coil heads and compare them to some of our personal favorites.
Since our first impressions of the FORZ TX80 , we knew Vaporesso had something special and now getting it in our hands, we can confirm, it truly is. I don't have one bad thing to say about the Vaporesso FORZ TX80 Kit. From the design to the presentation, Vaporesso has done a stellar job.
Vaporesso FORZ TX80 Performance
While first impressions are crucial to any vape product, what's more important is the performance and how it'll vape on a daily basis.
Axon Chip 2.0
Since the release of the original Axon chipset and even newer variants in products like the Vaporesso Gen S , it has been nothing but impressive. The sheer amount of features and raw performance you'll get from these chips are simply amazing. With that being said, they've implemented the Axon Chip 2.0 in their FORZ TX80.

With the upgraded Axon chip 2.0, you'll get all the features you know and love. It has a maximum wattage output of 80w, plenty enough for using a single high drain 18650 battery . Additionally, it can fire as low as 0.03 ohm! Now, we wouldn't recommend vaping this low of a resistance and always remember ohms law and battery safety . It's best to stay safe!

Some other features include temperature control, DIY mode which lets you fully control the output, pulse mode and more. However, they've added something we haven't seen before and that's the F(t) mode, which is what we'll cover next.
F(t) Mode - Better Than Pulse Mode?
Vaporesso's Axon chip 2.0 features the new F(t) Mode and while their Pulse mode was amazing, this takes your vape to the next level. While the Pulse mode gives you a more consistent vape, the F(t) mode gives you a burst while maintaining a wider temperature range.
What this translates to is delivering the flavor and nicotine satisfaction from your e-liquid right away with no climb to a specific temperature or wattage.
Trust me, you can tell a difference between the two modes and I do agree with what Vaporesso claims. I thought it'd be impossible at first to really dethrone their Pulse mode, but they've done it! The F(t) mode is now my favorite way to vape when using the Axon chipset and I hope future devices get it.
Keep in mind, this is subjective and you may enjoy the previous Pulse mod over the new F(t) mode and that isn't a bad thing! What works best for you won't necessarily work best for everyone. Regardless, you should definitely try out the F(t) mode, you might be surprised at how enjoyable it is.
Rugged Design
Aside from their improved and upgraded Axon chip 2.0, the exterior design is what will attract many vapers to this device. It's shockproof, dustproof and waterproof, which means it can easily withstand drops and falls with no issues. Although this is true, the FORZ TX80 80w mod keeps a relatively compact size. It's actually smaller than what I thought it'd be. It's not the absolute smallest 18650 mod we've had, but considering how tough it is, we're not complaining.

The battery cap, which is located on the bottom of the mod can be screwed on and off. Taking it off does require some time and takes longer than some other mods. Honestly, it's expected since it's needed to have such a tough exterior, but it can be seen as a con to some. Additionally, it does take a bit of strength to turn to either tighten or loosen. This isn't a deal breaker by any means, but worth mentioning for sure.

Comfort is what Vaporesso has also nailed with the design on the FORZ TX80. You've got the soft touch rubberized texture on most of the device, but the front has a brushed metal. On the back is where you'll find the leather that adds even more to the comfort. There isn't any sharp edges anywhere either, another huge pro!
Now, the screen is quite simple and I wished they implemented something nicer, especially since this is sporting the newest Axon chipset 2.0. It's pretty plain and reminds me of their Swag 2, but it works. I'll list this one as a subjective con as I know some vapers, including myself who would've loved a color display at the least.

Aside from these two minor cons, the Vaporesso FORZ TX80 is indeed built like a tank. Dropping it purposely, it turns on and vapes as if nothing ever happened.
FORZ Tank 25 - The Ideal Match
The second star of the show, the FORZ Tank 25. Built to last just like its partner, the FORZ TX80, it can certainly withstand daily usage with no issues. Although it has the cage around the glass tank section, and assists with that durability, it is pretty difficult to take the glass out. Additionally, you'll want to be careful if you're trying to slide it out as you don't want to break it accidentally.

Honestly, I had no real need to take it outside the cage, but if you do need to do so, it will take some time and finesse. Just remember to be careful when doing it and you should be fine. However, I'd list this one as a con, because it is hard to do and not as easy as some other sub ohm tanks . Like I mentioned earlier though, it's both a pro and con. It's a pro that it's there for the added protection, but a con that it's a difficult process to take off.
Airflow is fully adjustable and comes in from the bottom. It's easy to adjust when attached to the mod, so no issues there. At most, the FORZ 25 Tank can hold 4.5ml of e-liquid, which is pretty respectable. Filling can be done from the top, but do it slowly as the actually filling ports on the inside are cut down in about half.
At the top, this atty does come pre-installed with both a wide bore delrin drip tip and silicone cover. Pretty neat that it does come with a cover, which will come in handy if you're carrying the FORZ TX80 Kit with you in a bag. This will help prevent dust or anything else from entering the tank through the drip tip. Something small and often overlooked, but definitely appreciated!
GTR 0.15 Ohm Mesh Coil
Moving onto the GTR mesh coils, new from Vaporesso. At first glance, these are indeed larger than their previous GTX mesh coils. Additionally, these are more focused on sub ohm vaping, at least currently, while with the previous coils you'd get for both restrictive direct lung and MTL vaping . This isn't a bad thing by any means and I could these being implemented in larger pod mods, but it's a different approach than before. However, they're still plug and play, so super easy to use.

Some other differences with the Vaporesso GTR coils include ant-bacteria organic cotton, a larger airflow to support the sub ohm resistances and higher wattage vaping and an updated leak-proof structure. I'll say right away, I've experienced zero leaking.

The first coil we'll cover is the pre-installed GTR 0.15 ohm mesh coil head. Rated between 60w and 80w, it delivers some serious flavor and warmth. With the airflow wide open, it's pretty airy and will even satisfy those vapers who love lots of airflow. Personally, I cut down the airflow about half way and enjoyed this coil around 65w. Cutting down the amount of airflow increased how loud the tank was as I vaped. It's not very loud, but noticeable for sure.
Flavor was outstanding and cloud production was excellent. Although this coil could easily handle the max 80w rating, this would also drain your batteries pretty quickly. This is expected as the FORZ TX80 supports a single 18650. With that said, I was looking forward to the higher resistance 0.4 ohm option.
GTR 0.4 Ohm Mesh Coil
The second coil found in the box is the GTR 0.4 ohm mesh coil head. Rated best between 40w and 60w, I found this accurate. It also suits the FORZ TX80 much better than the 0.15 ohm option as you'll need less wattage to get a great vape.

At the higher wattage range (50w to 60w) it delivered similar warmth as the other coil, but less vapor production. This wasn't an issue for me as it wasn't substantially less clouds. The flavor was just as good too with the GTR 0.4 ohm mesh coil. Airflow is silky smooth, but still slightly loud when cutting down the airflow.

Testing these two coils, I wouldn't exactly compare them to the GTX coil line. They're a great addition alongside these coils and give us vapers even more options to choose from. It's definitely different and more catered to larger atomizers such as tanks. However, as mentioned previously, I could easily see these in more powerful pod mods in the future.

All in all, the GTR coils are impressive. Flavor is amazing and clouds are more than enough for both. Vaporesso has done an excellent job with these and I'm sure we'll see these again.
Vaporesso FORZ TX80 vs GeekVape Aegis Solo
One of the questions we know we'll get: is the Vaporesso FORZ TX80 better than the Geekvape Aegis Solo ? While this is certainly subjective, I've got to give the upper hand to the FORZ TX80 Kit. Not only does it come with an awesome tank that's rugged, but the chipset is that much better. It's filled with tons of amazing features that the competition simply doesn't have, at least, as of now.

Even down to the aesthetics, Vaporesso has got it beat. The curved buttons feel great and the brushed metal face plate is much more attractive than what the Aegis Solo has to offer. Sorry Geekvape, but Vaporesso has won this battle.
FORZ TX80 Kit Pros & Cons
Conclusion - Best Rugged Vape Kit?
To conclude our Vaporesso FORZ TX80 Review, we're impressed. From the overall design of the mod and tank to the feature packed Axon chipset 2.0, it covers basically everything you'd need from a rugged starter kit. While there are quite a few other shockproof, dustproof and waterproof mods on the market, none of them offers the sheer amount of features you get with the FORZ TX80. This is, by far, one of the key advantages Vaporesso has over the others.

Not to mention, the comfort and size of the device is great and makes it easy to carry with you daily whether in your pocket or bag. While the chip that's inside the FORZ TX80 has plenty of features, it's not difficult to use nor has a clunky menu system. It just works brilliantly.
Although there was many great things to say about the FORZ TX80 Kit by Vaporesso, it did have its fair share of cons too. This includes the battery replacing, which does take longer than normal, the simplistic display screen, the cage making it difficult to actually take out the glass and the louder than normal airflow. While there were few complaints here, none of them are deal breakers! These are all minor gripes to what is currently one of the best tough or rugged starter kits you can buy today.

So, yes we would absolutely recommend the Vaporesso FORZ TX80 Mod and Kit. We would love to see in the future a dual battery or single 21700 variant of this kit. If Vaporesso decides to go this route, they'll certainly give other large vape brands a run for their money.

Thanks for reading our Vaporesso FORZ TX80 Review! We hope you enjoyed reading it! Let us know in the comments if you have any questions.