Vaporesso Luxe PM40 Review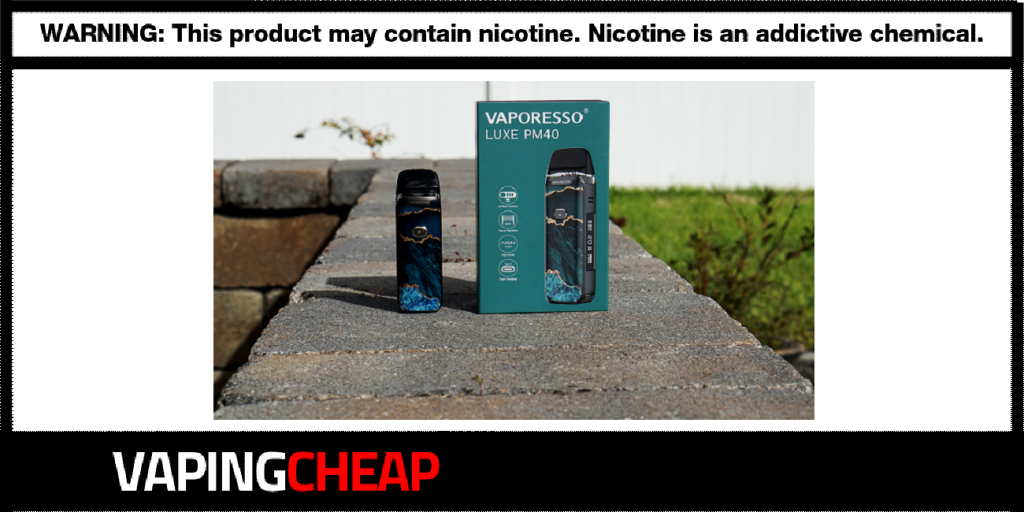 In the surge of pod mods released in the recent years, pod mods that are right in the middle regarding size and power are seen as the sweet spot for many. These offer enough wattage to cater to multiple vaping experiences and with the slightly larger size, they contain a bigger battery that can last a most of the day.
Here comes the latest from well known brand Vaporesso , the Luxe PM40. It shares a name with one of their previous products and offers that style that many vapers are attracted to. It's a first for this brand, and we'll cover all you need to know in our Vaporesso Luxe PM40 review. Most importantly, we'll let you know if it's better than what the competition has to offer.
Vaporesso Luxe PM40 Pod Mod Features
Here are all the key features of the Luxe PM40 by Vaporesso.
Vaporesso Luxe PM40 Unboxing
Unboxing the Luxe PM40 by Vaporesso is pretty straightforward, but always a great experience. Their packaging is excellent and provides all the information you need to know about their product. From their newer FORZ TX80 to their previous GTX One , they've stayed consistent, which is definitely a good thing.

Once you slide open the box, you're immediately met with the Vaporesso Luxe PM40 and it's simply gorgeous! The holographic IML panel really adds a unique touch to the look while the size is pretty much perfect. I thought it'd be slightly bigger after looking at photos online, but it's definitely pocket-friendly.
Right on the front you've got the single button which is used to control your wattage and to vape with. On the back is where you'll find the airflow control lever - more to come on this later. On one side of the Luxe PM40 is the display screen, airflow slot and charging port. Thankfully, they've implemented 2A USB-C charging, which makes life with this device convenient. On the other side, you've got another set of airflow slots.
Included Extras
One thing Vaporesso always does that continues to impress me is what they include in the box. Just like we saw with the Target PM80 SE , you've got two pod cartridges! Additionally, there's two different coil heads! This is a huge pro and gives you more bang for your buck. You've got all the usual stuff in there as well such as the charging cable, user manual and warranty card.

All in all, Vaporesso has done another great job on impressing me with the unboxing. Not only do you get a lot inside the packaging, but it's a gorgeous pod mod that has the perfect size.
Vaporesso Luxe PM40 Performance
With how promising the Vaporesso Luxe PM40 is looking to be, let's see if it delivers regarding performance.
Simple One Button Operation
One of the key aspects to any pod vape is simplicity. These style of devices are known for being easy to use, but some vapers do like having some degree of customization to dial in the vape. This is true for the Luxe PM40 as it's not only simple, but delivers that ability to fine tune your vape.

A simple 5 clicks of the button will turn the device on or off. Clicking the same button while the pod battery is on will allow you to adjust the wattage. You'll see the wattage flashing, click or hold down the firing button will allow you to scroll through the wattage (5w to 40w). Once you've set the wattage you want, just let it sit for a few seconds and it'll set that specific wattage and you're good to go. It doesn't get easier than that!
Turbo Boost Technology & Large Battery
Aside from the Vaporesso Luxe PM40 being easy to use, one great feature is the turbo boosting technology. What this allows for is a consistent vape experience until the battery is nearly depleted.
Often times you'll find with some devices that once you reach a certain battery level you'll feel the power constantly lowering. So, keeping the wattage boosted up to your specific setting until it almost needs to be charged is a huge advantage.
Now, speaking of the battery, you've got a large 1,800mAh capacity high-density battery packed into the Luxe PM40. I could easily get through an entire day of vaping. This will vary with each vaper as higher wattages will lead to the battery draining faster. However, with the 2A quick charging, you'll be back to vaping in no time.
Adjustable AFC - Fine Tune Your Draw
Another amazing feature that's becoming somewhat of a trend is adjustable airflow. Like we've seen in our recent review for the Xiron , the Luxe PM40 also has this feature. However, it's different on how you adjust the airflow and comparable with the XROS . There's an airflow lever on the back of the pod mod, which either closes the airflow or opens it up.

I do want to mention for you vapers who enjoy MTL vaping , this one will deliver a looser mouth to lung vape. It's not a bad thing by any means, but something worth mentioning. If you're looking for a tighter MTL vape, then you've got plenty of options available to you such as the Barr by Vaporesso . Either way, it's a huge pro to have this feature!
Vaporesso Luxe PM40 vs Smok Nord 2
With how popular the Smok Nord 2 is, does the Luxe PM40 take the win as the better option?
Design & Features
Looking at both the Nord 2 by Smok and the Luxe PM40, they're nearly identical in size. However, the advantage goes to the Luxe PM40 as it does contain a bigger battery. This means longer vaping times without needing a charge! Additionally, you've got fully adjustable airflow control, which the Nord 2 simply doesn't have.
Overall design goes to the Vaporesso option as well. You can see and feel the metal on the side of the Luxe PM40, giving you a much more premium feeling device. Not to mention, that IML panel just attracts your eye like no other! Both feature a one button design where you can control the wattage and vape, but the display screen is brighter on the Luxe PM40, giving yet another advantage over the competitor.
Coil Options & Power
What's great about both pod devices is that they include two pod cartridges in the box. However, for the Smok variant, it's to suit different coil systems. While this is a pro and you've got a vast lineup of different coils, the pod cartridge suitable for Nord coils is lackluster in comparison to both the RPM coils and Vaporesso's GTX coils. They simply don't perform as well as the others and are better suited to a smaller device as they require less power.

Moving onto the most important part - flavor production. If you've read our previous reviews , then you know we absolutely love the GTX mesh coils Vaporesso uses across various devices. The RPM coils are no slouch either, but the GTX coil slightly edges it in the flavor department.
What's even better is that both cartridges included with the Luxe PM40 can utilize all coils, so you're not stuck with having two pods catered to totally different coils. It's just a better experience all around.
Max power output is the same for both devices, capping out at 40w. This is great, but again, Vaporesso has the edge with its turbo boosting technology, leading to a more consistent vape experience over time.
Clear Winner
While the Smok Nord 2 is a great device, it's clear that the Vaporesso Luxe PM40 is the better option between the two. You've got a bigger battery, arguably better coils, adjustable airflow, consistent vaping experience due to the turbo boosting technology and a more premium feeling design.
All of these features add up to a much better experience overall in comparison, leading Vaporesso to victory. Sorry Smok, but you've lost this battle.
Vaporesso Luxe PM40 Pros & Cons
Review Conclusion
The Vaporesso Luxe PM40 is an amazing device that packs many features leading to a quality vape experience. There was very little, if anything to complain about with this pod device. From the looks with its beautiful IML panel to the solid performance with the turbo boosting technology, it's got you covered.

Like mentioned right at the beginning, this device caters to those who want something right in the middle. It's bigger than traditional pod systems, but not too big. It still manages to pack a larger battery and offers enough power to deliver both MTL and DTL vaping.

While there's a lot to brag about with this device, there were two subjective cons. One is the MTL vape experience being loose. While some may enjoy it others will seek out something more restrictive. The other subjective con is the wider mouthpiece on the pod cartridge. Personally, I prefer a smaller mouthpiece or drip tip overall, but it's not something I couldn't get used to.

So, would I recommend the Vaporesso Luxe PM40? Yes, if this fits what you're searching for, there's lots to love with this one.

Thanks for reading! We hope you enjoyed our Vaporesso Luxe PM40 review! Feel free to leave any questions in the comments below!