Vaporesso Swag PX80 Preview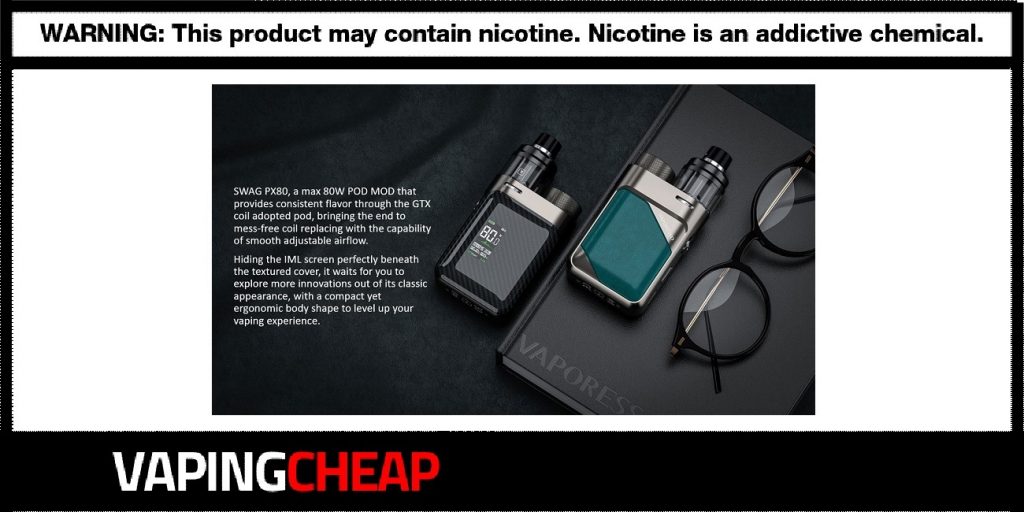 Small devices that pack a punch in power and flavor is something that's always been popular in the vaping world. Ever since popular brand Vaporesso released their Swag device, it's been a hit. An incredibly small and lightweight device that can literally be taken with you anywhere while still offering plenty of unique features is what it offered.
However, with the rise of vape pods and all-in-one kits, the need for vapers has shifted and so the Swag series has adapted. In our Vaporesso Swag PX80 preview, we'll let you know all the new features offered alongside what we're most excited for when we finally get our hands on one.
Primary Features
To start, let's cover the primary features you'll find on the Swag PX80 by Vaporesso.
Evolution Of The Swag Series
When comparing this device to previous entries in the lineup, including the recent Swag 2 starter kit , this is much different and can be seen as the next step or evolution of this vape. Adapting a pod mod design, it's set to offer convenience alongside the power to satisfy the vast majority of vapers.
Powered by a single 18650 battery, it's able to deliver 80w of power. Based on our experience with devices that sport their Axon chipset like the Gen S , we're confident that it'll deliver as advertised. Like the previous variants, it still keeps its incredibly compact form factor, which is a huge plus!

Moving onto the biggest change, as mentioned previously, the pod tank. Similar to an AIO kit rather than a traditional pod system, you can indeed change the coils. Rather than having a traditional 510 connection at the top of the Swag PX80, you've got connections to be able to attach or detach the pod cartridge. However, it sits within the mod, giving you not only a unique look, but shortening the overall length.
Another amazing feature Vaporesso mentions is the quad leakage protection. If you've vaped tanks before, then you know leaking can be a common issue. With its design, the Swag PX80 pod mod will prevent that from occurring! On top of that, there's no need to empty the pod when changing out the coil, which is yet another annoying aspect of traditional tanks. Thankfully, Vaporesso implemented this to make vaping with it as easy as possible.
Now, a feature that'll certainly provide an advantage over the competition just like it did with the Xiron pod kit is the adjustable airflow system. It's simple just like everything else with the pod mod. A quick turn of the Swag PX80 pod tank, and you can completely adjust the draw to your liking. Mix this with the incredible GTX coil platform, and it's looking to be like a winner in our eyes.
Expectations of the Swag PX80 Pod Mod
Our expectations are quite high for Vaporesso as they've released spectacular products over the past year. With this being their 1st to the market in 2021, we're definitely looking forward to what this can do for us vapers.

The first expectation we have it definitely how easy it is to use, especially for beginners. While for experienced vapers this will indeed be a breeze to use day to day, a newer vaper may face challenges when first using slightly more advanced products like this. Although that's the case, we're expecting this to be very user-friendly where even newer vapers can pick one up and have zero issues with it.

Next is the ability to provide both mouth to lung vaping and direct lung vaping. As mentioned before, the Swag PX80 is compatible with the expansive GTX coil platform. With that said, we're expecting this to be able to cater to both vapers who enjoy MTL vaping alongside DTL vaping. With the adjustable airflow control that's available, we do expect it can deliver just that. However, the big question is how well can it do both!
For our next expectation, it has to be zero leaking. With Vaporesso offering a quad leakage protection with the pod tank cartridge, we are expecting zero leaks with this one. With this being one of the major issues many devices suffer from, we're excited to put this to the test. A mess free experience is what we're looking for!

Lastly, we are expecting nothing, but amazing performance out of the Swag PX80. Featuring the Axon chipset and a single 18650, it can deliver 80w of power. While the full wattage may not be needed with the coils, we'll crank that watts up to the max to ensure that it truly can offer what it claims.
Preview Conclusion
To conclude, Vaporesso is set at pleasing both newer and experienced vapers with one single vape kit. Going the route of an AIO or all-in-one device, the Swag PX80 is something that many vapers want - an incredibly compact vape that can provide immense flavor and vapor production. Backed by the GTX coils, we're certain this will deliver what we're expecting.

There's no denying that there are many devices that are available on the market, but not all of them will offer the same performance nor the features you may be looking for. With that said, we're excited to get one and fully test it out, so be sure to check back soon for our full review!
Thanks for reading our Vaporesso Swag PX80 Preview. Let us know in the comments what are your thoughts on this new Swag device from Vaporesso! Is this something that you're looking for or would you like to see other products in 2021 from Vaporesso?