Best E-Cig For Making The Switch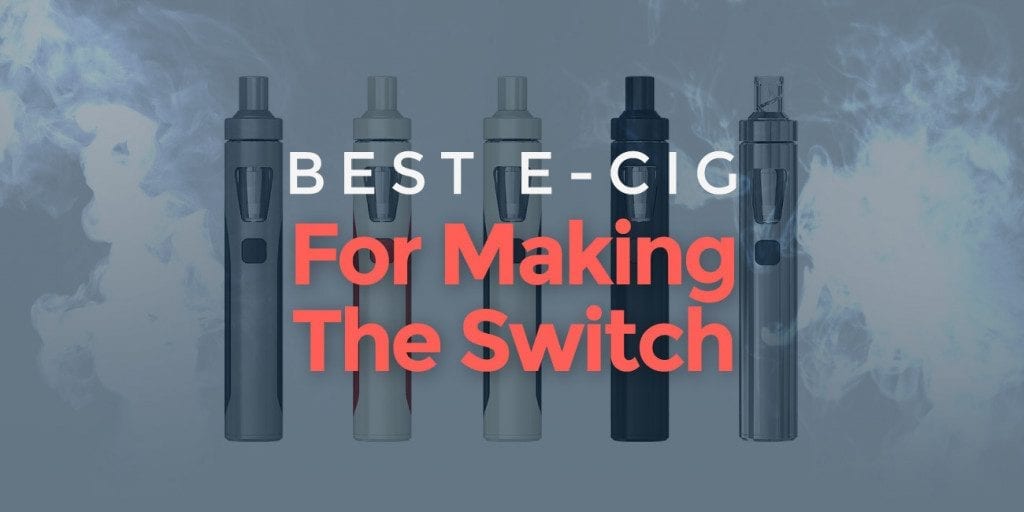 What makes for the best e-cig? At one point in time, I might have been tempted to say the biggest, most powerful device takes the cake every time. When you think about it, though, e-cigs are about more than just putting out the most vapor and blowing the biggest clouds. For many, it's a part of the transition away from smoking regular cigarettes.
Plenty have done it already, but there are still more and more folks looking to make the switch every day. The thing is, the variety of space-age vape and e-cig hardware might give pause to novices making their first forays into the hobby. Case in point:
I've been at this for a while, and even I'm stunned by some of the elaborate devices I see from time to time. Imagine what it must be like if you have no e-cig experience whatsoever? I'm thinking it's high time to put together an intro guide on the various e-cigarette brands and the best e-cigs to buy if you're trying to make the switch (and are feeling somewhat intimidated by the wealth of advanced choices). Consider this a rudimentary e-cigarette roundup complete with reviews on the best e-cig brands for newbies.
For today, at least, we'll stick to the simple to operate, discreet, pen-style e-cigs. These devices provide a proper balance of stealth, power, and ease that's perfect for beginners. In my estimation, they are more likely to make a veteran smoker feel comfortable when making the transition to one of the major electronic cigarette brands.
| Image | Product Name | Battery | Tank Capacity | Rating | Price |
| --- | --- | --- | --- | --- | --- |
| | | 2500mAH | 4.0 ml | | |
| | | 2600mAH | 5.5 ml | | |
| | | 18650mah | N/A | | |
| | | 1500mAH | 2.0 ml | | |
| | | 2200mAH | 2.0 ml | | |
| | | 1400mAH | 2.0 ml | | |
| | | ​ | 3.5 ml | | |
| | Mig Morpheus | ​ | 3.0 ml | | |
| | | ​ | 2.0 ml | | |
| | Apollo NEO Endeavor | ​ | N/A | | |
Vapor Cigarette Reviews
So which e-cigarette is the best? There are several factors you'll want to look at to come to your answer:
Size and weight will be important. Do you want something with some heft and power or something that you can easily tuck away? Perhaps a combination of both?
You'll need to look at the device's capacity (does it hold a lot of e-liquid or just a bit)?
You'll also want to consider battery life. Some devices take the standard 18650; others use an integrated battery that you must charge via USB.
Lastly, make sure to pay attention to the additional features. Maybe some incidental attribute will be the deciding factor between two models for you?
The Kanger EVOD Pro will be a familiar-looking device to anyone who's tried out a SUBVOD or TOPEVOD before. The body is an all-in-one, housing the tank, battery, and other components within:
Height: 138.5mm
Diameter: 22mm
Weight: 285g
The tank is a top-fill with a 4ml capacity. The airflow control is located on the top of the device. The EVOD Pro is also equipped with a leakproof cup, wide bore drip tip, and a single-button operating mode.
For power, the EVOD Pro relies on a 2500mAh Lithium-Ion battery built in. It allows for a max output of 30-watts. You can charge the battery via micro USB. It also has built-in overcharge and short circuit protection to prevent any mishaps.The EVOD is compatible with CLOCC atomizers and can fire with a minimum resistance of 0.15Ω.
How does the EVOD Pro perform? Quite well. As I mentioned, if you've seen a SUBVOD or TOPEVOD, you're in for a similar, but improved experience. The EVOD's sub-ohm power means you can use thick e-liquid with a high VG ratio for blowing big clouds. Draws on the EVOD are smooth, and aided by the airflow control and wide tip.
Thanks to the simple, one-button operation, you need only fill the tank and turn on the device to start taking hits. No fumbling around with screens or advanced settings. A great plug-and-play option, something that the best e-cigarettes have in common.
Eleaf puts out a wide array of impressive devices that I rather enjoy. I've usually got my iStick Pico or iStick Power close at hand, and have been more than satisfied with their performance in the time that I've owned them. The iJust 2 is another gold star on Eleaf's record that cleverly blends both form and function.
The stainless steel body measures about 150mm in length and 22mm in diameter. It feels durable and smooth to the touch. The tank is substantial, able to hold 5.5ml of e-liquid. It's got a wide bore drip tip, heat dissipative structure to keep things cool.
The battery is a 2600mAH capable of outputs comparable to many smaller box mods. You can charge it via USBAs for the atomizer, it's compatible with organic cotton 0.5Ω coils, but comes standard with a 0.3Ω coil. The iJust 2 also has an airflow control ring, which you would have to get separately if you just got the iJust tank.
The performance on the iJust2 is deceptively smooth. You'd expect a weak draw on a device of this size and price range, but Eleaf set this model up right, and your direct-to-lung hits are going to feel fantastic.
The one knock on the iJust2 is that it's going to get a bit messy during refilling time. Since it's a bottom-load device, you'll have to completely unscrew the tank and flip it over to drip your juice.
I prefer top load designs for loading, but the advantage is that probably the best electronic cig if you want to easily replace your coils. You won't have to break out the pliers or stick your iJust 2 in the fridge just to get it to budge!
The name sounds somewhat ominous, doesn't it? Every time I hear "Council Of Vapor," I imagine a shadowy, Legion Of Doom style gathering of e-cig masterminds plotting world domination. Thankfully, these guys are just out to dominate the vape game, not conquer the globe. Their motto, "Where form meets function," is perfectly encapsulated in the Kindred 2.0, an update to the previous Kindred 1.5.
It's an elegant, tube body that's available in copper or stainless steel finishes. The look closely resembles a classy cigar, and the experience matches the high-end appearance. You'll have to get an atomizer to pair with this one, but you won't have to look too far as the Royal Hunter RDA (another COV special) matches perfectly with the Kindred 2.0.
The Kindred 2.0 will require a slightly greater investment of time to master. You'll need to take some time to learn the ins-and-outs of using an RDA with a mechanical mod. Unlike some other models on this list, the Kindred 2.0 can make use of an external battery, so you'll have to disassemble the device to load that as well. You have your pick between an 1830, 18500, and standard 18650mAH varieties.
When it's time to get vaping, though, you'll be glad that you went through the prerequisite steps. If your build is good, the flavor with the Kindred 2.0/Royal Hunter combo are pure, and cloud production, while not overwhelming, is still substantial. For some users, however, this will be the rub. You might run into some troubles with your setup, which will result in a less-than-prime vaping experience.
If you're up to the challenge, this might be the best electronic cigarette for you based purely on aesthetics. If you want something with more plug-n-play friendliness, though, I'd advise you to take a look at some other picks before the Kindred 2.0.
The Joyetech eGO AIO is simplicity distilled, the number one factor for many newcomers to e-cigs. The name itself, "AIO," stands for all-in-one, so you know what you're getting into right off the bat. It's a basic-looking device, but that's on purpose—the design is aimed at consumers just entering the vape game. Don't let the pared down appearance fool you into thinking this one's a dud, though; the eGO AIO is more than its visage would suggest.
The device measures 118.5mm in length and 19mm in diameter. It's substantial enough to feel sturdy, but still compact enough for easy concealment and discreet enjoyment. It might not be a draw for a high-level vaper, but for beginners, this is going to be a fine first option. Flavors stay true, vapor production is decent, and battery life is long enough for a full day of moderate use.
The internal battery is a 1500mAH deal capable of recharge via USB. Tank capacity is somewhat limited, but not the smallest out there. The eGO AIO is capable of 28-watt max output and the coil resistance measures in at around 0.6Ω. You can snag one of these in a variety of color choices, so if you're a fan of making a visual statement, this is a good pick for you. You can even customize the LED light color for increased personalization.
Airflow on the eGO AIO is adjustable, and, being a top-fill device, loading the eGO AIO is a simple process of unscrewing the top and dripping in some more juice. Some might knock this e-cig for its lack of variable settings and inability to handle high VG content, but that's all in the name of simplicity. This device holds its own as one of the best e-cigs for newbies.
Hefty but compact; discreet but powerful; the Wismec Motiv is an all-in-one that deftly balances the important aspects of modern e-cigarettes. The build quality on this device is solid. Feels good in the hand, and the steel finish is smooth. The body is a five piece deconstructable, easy to take apart and put back together. All told, it measures 132.6mm and weighs in at a comfy 250-grams.
The tank has a small 2ml capacity, but it's top-fill and leak-proof so it won't be causing you much mess when vaping or reloading. The Motiv has a built-in 2200mAH battery, capable of a max 60-watt output with a 0.25Ω coil. You can use organic cotton dual or notch coils, depending on your specifications.
The Motiv fires well but isn't the best model for huge clouds. Still, if you're just getting started, this has all the drawing power you'll need. You can adjust the airflow with the top valve (just twist and you're done). It's good for mouth-to-lung vaping and aids in fine-tuning your hits.
You can fire this without the cap, and the 510 mouthpiece design means you can go with the standard tip or any 510-compatible piece that's more to your liking. The Motiv isn't the king of power hits, but it's an all-around balanced device that's good for exploring which direction you may want to take with your next e-cig.
The Vaporesso Guardian One is another in the large selection of compact pen-style e-cigs. It's not the flashiest, it's not the most powerful, but it's user-friendly and has plenty of upsides (with very few drawbacks).
Let's start with the minor negative aspects. It has a smaller capacity tank, 2ml. You'll find yourself needing to reload at 30-minute intervals if you're an all-day-vape type. When it comes time to reload, you might find some frustration with getting to the tank.
It's a top-fill, which is good, but thanks to some child-safety features it can be somewhat tricky the first few times around. Thankfully, the learning curve isn't too steep, and you'll be able to acclimate quickly to the point that this becomes a non-issue.
Other than that, most users will find themselves quite satisfied with the Guardian One. It has a built-in 1400maH rechargeable battery . This will last you a good while as long as you aren't prone to overdoing it. The Guardian One has fixed 40W firing mode (no fooling with settings) and compatibility with 0.5Ω tanks. It comes with one cCell-GD SS Coil to start, and you can pick from a wide range of comparable coils when it comes time to replace the old one.
Vaporesso integrated numerous protection features into the design, including short-circuit, low wattage, overvaping, overcharging, and over discharge countermeasures. Thanks to these features, you'll have little worry about dry hits or burnt-tasting juice.
The device hits smoothly, and airflow is more than adequate. The Guardian One is easy to control with the single front-facing operation button, and, as a bonus, you can choose between a black and silver-metallic finish for this slick piece of hardware.
The Rocket 3 is much like the original Rocket, just better in every respect. It's larger than some of the other picks on our list. The Rocket 3 might seem weighty to some, but most are going to enjoy the heft and sturdy feeling that comes while gripping and vaping.
The Rocket 3 has an increased tank size. You can load a respectable 3.5ml into this model. It's a top-fill, granting ease and nearly nullifying mess when cleaning/filling and the clear container allows you to check your levels with just a glance.
The internal battery is 2500maH rechargeable with good life. You can get through the day easily if you're a low or moderate vaper. This is big step up from previous iteration's 1600mAH batteries, which gave substantially less charge.
As for atomizers, the Rocket 3 is equipped with a 0.5Ω. The kit comes with an additional 0.1Ω for extremely low-resistance vaping. You can swap in other compatible coils, and the Rocket 3 will adjust for optimal output.
The Rocket 3 even has adjustable temperature settings. It's a slight learning curve for beginners, but this vape is forgiving enough to ease you in without overwhelming you with choice.
In the end, The Rocket 3 is one of the best e-cig entry point devices but packs more than enough punch for intermediate vapers as well.
The 100-watt output from a pen-style e-cig? It's possible, as the Morpheus so plainly shows. It's a beautifully crafted body, a combination of steel and carbon fiber. It's far from the standard design when it comes to e-cig, and fans of forward-thinking design will appreciate this subtle, futuristic touch.
The tank is sizable, at 3ml. It's enough to hold a moderate amount of juice for moderate everyday vaping. If you're used to going a bit harder, you might find yourself needing to refill more frequently, but it's no great hassle. The tank unscrews easily, and you can drip more e-liquid from the top.
As I mentioned, this is a high output device. It contains a 3000mAH battery that lasts long and hits a max 100-watts. You'll rarely need to go this high, but it's good to have the power for big clouds and huge direct-to-lung hits. You can use low-resistance coils, as little as 0.2Ω. The device comes packaged with a 0.4Ω coil as well.
All of the other bells and whistles you'd expect on a power pen are included as well: variable airflow, 510 connections, no-crust drip tip, etc. The Morpheus is a good "set it and forget it" device that will attract users of all stripes.
A lot of companies are upgrading their older devices with new user-friendly features. Halo is getting in on the trend with their Triton 2, a revamped version of the older Triton. This is a smaller, easily concealed device that slips in the pocket well but still has enough power for moderate draws.
Filling the tank is somewhat bothersome. You'll probably have to fiddle with it a few times before getting the hang of it. Once you do, you'll only be able to fit a scant 2ml. Not the best capacity, but an understandable trade-off when you consider the Triton 2's size. You can adjust your airflow on top and switch between one of the two available mouthpieces to control your hit sizes.
Power for the Triton 2 comes from its 700mAH battery. Not the most impressive, but again, necessary for the Triton's smaller size. This vape is compatible with 0.75Ω coils, and three are included upon purchase. They provide a decent sub-ohm experience, though not the same as the more powerful devices that exist on the market.
Hits on the Triton 2, though smaller, will still pack a fair amount of flavor and a suitable experience for beginners. This is a prime choice if you want the best e-cig you can get for stealthy vaping.
This is another miniature sub-ohm device. Some may find it underpowered, but those looking for discretion will appreciate the slim profile and ease with which this small unit can be tucked away. It's also a straightforward device to operate. Just charge it, load it up, then use the single button to operate. No settings to configure, no tricky disassembly either.
At 650mAH, the battery may not seem like the most impressive. It can, however, last for the better part of a day, provided you monitor your usage. The NEO Endeavor is compatible with 0.5Ω coils, providing good sub-ohm mouth-to-lung hits and smooth flavor.
Unlike some smaller sub-ohm vapes that fire inconsistently, the NEO Endeavor keeps an even experience all the way through. For its size, this is definitely a good beginner/stealth option—small, quiet, and zero fuss.
Conclusion​
So what is the best e-cig? Ultimately, it's up to you to make the final choice. I, for one, prefer the larger and more powerful vapes with strong batteries, good wattage, and serious cloud production.
Like I said at the onset, though, it's not all about big clouds. If you're a first timer switching over from smoking traditional cigarettes, you might want to begin with something more akin to what you're used to. In that case, I'd say have at a smaller e-cig that's easier to stick in your pocket and simpler to operate until you get your bearings straight.
Either way, You've got plenty to pick from in our list, and you're sure to find something worthwhile with any option. Remember to keep battery life, price, and tank capacity in mind while making your choice, and feel free to do some more in-depth research before your final decision.